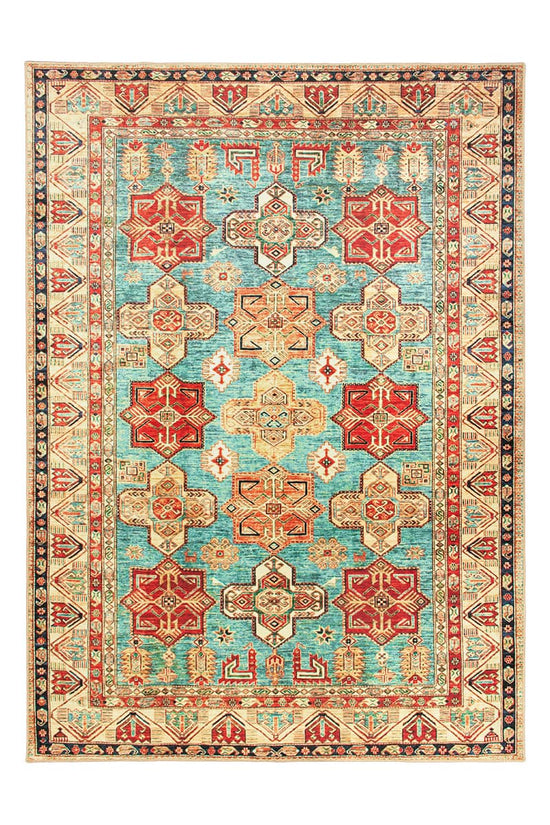 Make a difference and significantly change the look of your rooms with our modern turquoise rug with an Ottoman motif. It pairs red and blue in the right proportions, and its classic and fabulous motif makes it a timeless addition to your space. The unique designs of this trendy rug will match well with different color palettes of your walls, curtains, furniture, and other decor accessories. 
My Magic Carpet is a machine-washable, single-piece nonslip rug which is lightweight and perfectly fits into your washing machine.
Simply put it in the washing machine and voila! You have a new looking and hygienic rug in its perfect shape in minimal time . What more can you ask for?
Keep your pets close to you, inside your living space without worrying about their dander, mess, spills and accidents. Let them sit on this cozy, clean, hygienic and comfortable rug and fully enjoy your time with your pets.
Wash it whenever needed with detergent just like you wash your laundry. No more expenses of hiring a carpet cleaner or bringing it to a dry cleaner
Our patent-pending one-piece design makes keeping your home clean simple. Our rugs aren't just another addition to your decor, but they also help keep your floors clean and stain-free.
Watch the Video
Unlike other rugs, My Magic Carpet rugs are not just lovely to look at, they also protect your floors from scratches, spills, and stains! Our rugs come with a waterproof inner lining that acts as a barrier and prevents liquids from getting through to your floors, keeping them clean and containing the mess.
Watch the Video
These durable rugs are entirely life-proof and stand up to every test you and your family throws its way. From spills and potty training to wine night, your new stain-resistant rug protects your flooring with ease so your cats, dogs, and kids can keep doing what they do best.
Watch the Video
Our exclusive patent-pending rug comes with a nonslip backing included. Plus, it's machine washable, stain-resistant, and waterproof, making it the perfect, hassle-free all in one rug.